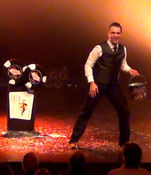 Jad
From Geneva Swizerland, Jad is the one of most original and creative performer in the country.
He started learning magic from Jeff McBride's videos, more than 10 years ago. He has been working with Jeff from more than 2 years now and says Jeff has "helped me to get my own magician's life."
Jad joines us at the Magic & Mystery School in Las Vegas in 2011. He says "that was an additionnal step for my magic to make it more creative and powerful."
Here are some of Jad's signature acts :
The Casino act was rewarded in Belgium 2012 1st place + Audience choice
The Spy Dove act was rewarded in France 2008 1st place
The Rap Monte act was rewarded in France 2007 1st place