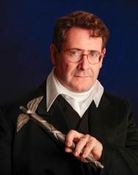 Dr. Ricardo Rosenkranz
Medicine and Magic
Dr. Ricardo Rosenkranz is Assistant Professor of Clinical Pediatrics at Northwestern University's Feinberg School of Medicine. Dr. Rosenkranz is the founder and CEO of Inovamed, S.A. de C.V., a leader in the innovative delivery of patient-centered health care in Mexico. Currently Dr. Rosenkranz devotes a significant portion of his time teaching at Feinberg Medical School where he teaches various courses, is involved in new curriculum development, and has received multiple faculty awards for his contributions.

In conjunction with the Medical Humanities and Bioethics Program, Dr. Rosenkranz created the nation's first medical school curriculum for the study of magic and medicine. Created for first and second year medical students, these courses explore the performance aspects of medicine and the anthropological relationship between medicine and the magical arts. The principal aim is to help medical students develop a more sophisticated and deeper understanding of the doctor-patient relationship. The success of his Magic and Medicine courses has spilled over to graduate medical education where Dr. Rosenkranz has taught similar courses at Stanford University and Cornell. The course and Dr. Rosenkranz have also been featured in the Chicago Tribune.

Dr. Rosenkranz has led the Course in Magic and Medicine at the McBride's Magic & Mystery School in Las Vegas, achieving CME accreditation for the program and is looking forward to the next version in 2014. With Jeff McBride, Eugene Burger and Lawrence Hass, Ph.D., Dr. Rosenkranz has developed a special CME program for physicians in practice that will be touring several US cities starting this year. He is also completing a book on Magic and Medicine, based on his curriculum.