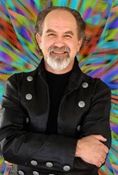 Kenton Knepper
Magic & Meaning
Kenton Knepper has changed magic and mentalism forever. Today many of the terms and principles Kenton created are common to mystery performers, such as Dual Reality, Linguistic Deception, Trance Illusion, Indirection, Wonder Words, NLP in magic and mentalism, Off By One, Anti-Tada and principles of psychology and symbolism as foundations of mystery performance, and multiple levels of meaning in any single performance.
Kenton Knepper has authored over 50 books and DVDs on magic and mentalism.
Kenton has hugely influenced the careers of superstars in the magic and mentalism field including David Blaine, Derren Brown, Doug Henning, Keith Barry, Jeff McBride, Doc Eason, J.C. Wagner, Paul Harris, Luke Jermay and Jay Sankey. His influence has been seen on MTV, CBS, RTE in Ireland, NHK in Japan, the Magic Circle in London, Stevie Nicks and Fleetwood Mac Benefit Concerts, Las Vegas and more.